SPACE PONCH, a legendary lounge unit
-Interviews with MATSUMAE Kimitaka-
[ Japanese version | English version ]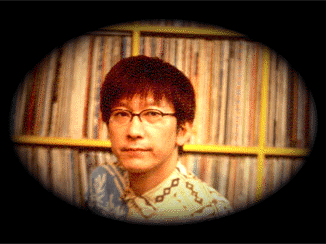 ---
Space Ponch information
On November 21, 1999, Space Ponch's first album "The world shopping with Space Ponch" was released on Flavour of Sound.
On December 22, 1999, Space Ponch's new track "SPACE COLONY 1999" was compiled into the compilation album "Transonic 9 (Various Artists)".
---
in memory of SPACE PONCH's album release
Interviews with MATSUMAE Kimitaka via e-m@il interview & text by UEHARA

his profile
Mr. Matsumae is from Sound Create Club of Chiba University. At that time he played noise music in the band known as "Mimi Kara Kaichu" with NAKAZAWA Hideki, etc.
Then he formed "Kidorikko" and released albums on an independent label. At the same time, he performed in "Constance Towers" with KISHINO Yuichi, TOKIWA Hibiki and Mint-Lee. They have played as an opening act of Pearl Brothers.
Then, he formed a techno band named "Expo" with YAMAGUCHI Yu from "Mothke-san" and he left "Kidorikko". In 1987 Expo released their debut album "Expo No Bankoku Daisenryaku" on Alfa Records GTO Label. After that, he started his solo activity in Scitron Label (ex. GTO Label) such as game music arrangement and he was involved with game music live like "S.S.T. BAND". Also he was an original member of "Hi-Posi" though he left the band before its major debut.
He often works as a manipulator in the studios and lives such as Tokyo Shonen, MATSUOKA Hideaki, IMAHORI Tsuneo, Mizutani Sho.
In 1994, he released the solo album "Space Ranch" on Transonic Records.
In 1996, he released the soundtrack album "Kileak the Blood, Soundtracks & Remix" on Sony Music.
In 1999, Space Ponch (ex. Constance Towers) released the major debut album "The world shopping with Space Ponch" on Flavour of Sound.
He made tracks for Telex remix album and Kraftwerk tribute album. In these days, he is busy for creating game music.
About Space Ponch
Congratulations for releasing Space Ponch's first album "The World Shopping With Space Ponch".
Matsumae: Thank you. I feel we finally did it.
You may have been asked many time. While Space Ponch has been doing live performance, why hasn't it released any albums until now?
Matsumae: It's quite simple. Because there were no labels that want to release our album. It's not because we did nothing, there were some talks. In the 80s we tried to release the CD "TATI SWEET" on a major label, but it did not happen. In 1992, we tried again,but after all it did not happen.
I see. How do you feel that Space Ponch is called a legendary lounge unit?
Matsumae: In the 80s when ambient music was very popular, anything including background music was called ambient music, too. My solo works were a kind of ambient music. I explained to my friends that my works were not background music, but healing music which people can ignore. It kind of means that background music played at cafe is a bit irritating music.
On the other hand, Space Ponch (Constance Towers at that time) has played lounge music since the 80s, but we couldn't explain our music. It was not like background music in a cafe. The term "lounge music" was not used at that time. It's not like our sound quality and instruments are like lounge. We arranged old soundtrack and played by synthesizers. Many people around me liked to listen to soundtrack, but there were not any live bands which played soundtrack.
Today soundtrack is considered to cool. That's has been obvious to me, and I feel why now. I'm so glad that many old soundtracks have been released.
What is a role of each member in Space Ponch?
Matsumae: KISHINO Yuichi is a brain, MINT-LEE is a heart, TOKIWA Hibiki is a face, and Matsumae is hands and legs. Saying in a different way, Mint-Lee arrange what Kishino had in his brain while there are some original songs by Mint-Lee and me. Tokiwa is in charge of visuals, and chatting with Kishino, and he has a ton of analog records and is a DJ. And I operate synthesizers, samplers and many instruments. For example, KISHINO and MINT-LEE make sequence data, I edit it and make sound in my home studio.
While it may be better to ask Mr. Kishino or Mr. Tokiwa, what's fascinating about mondo music?
Matsumae: Mondo is hard to define. Mondo music that we call today was not called mondo music in those days. In short, musicians themselves didn't think that their music was mondo music.
Mondo music is a special genre created by listeners. If someone mean to make mondo music, it's not mondo music. And the definition of mondo music is different by listeners. So I don't care about that it's mondo or not. I don't mean to create a kind of mondo music. I simply love good strange music.
I heard that Techno Pop DJ Party organized by Mr. TANAKA Yuji triggered to rename from Constance Towers to Space Ponch. Can you explain the differences between Constance Towers and Space Ponch?
Matsumae: Originally Constance Towers ware an instrumental band featuring old synthesizer. The members were the same as Space Ponch. Gradually Constance Towers became a vocal group featuring Kishino. We played in live houses with guest musicians such as IMAHORI Tsuneo (guitar), ARAKI Naomi (base guitar), TOYAMA Akira (drum), NISHIDA Hiromi (vocal). As a result Kishino performed his solo unit "Widow With Mustache".
In 1992, Techno Pop DJ Party organizer TANAKA Yuji wanted to listen to the original Constance Towers, and he booked Constance Towers on his party. Then we changed our band name from Constance Towers to Space Ponch at that reunion live. Because many people thought that Constance Towers were a vocal group.
Next year Space Ponch's album will be released in the U. S. Do you have any strategy to enter the U. S. market?
Matsumae: We will make an attack from West Coast. Why? When going to the U. S., we go over Pacific ocean, not via Europe. Closer to land in West Coast. People may be surprised if we started from East Coast. Aren't you asking about the strategy like this? It's not a computer game. Well, we may consider all English lyrics, disco remixes, 3 minutes radio versions and a new CD cover art of a mushroom cloud.
You must be joking. There is no boarder in music. I understand that all the past recorded tracks have been used up. When will you release second album?
Matsumae: We'll think about if we outbreak. I have no idea yet. I want, but we are busy for our individual works now.
I heard that you used a lot of vintage synthesizers. How did you record the album?
Matsumae: I bought a lot of analog synthesizers before today's vintage synthesizer boom, and I updated our equipments gradually. At that time we thought that all the synthesizers must be controlled by MIDI at the same time in lives. But it was very hard to play the song Tati Suite with too many instruments. In fact, we do not play with vintage synthesizers only and use vintage for the needed parts only with the use of samplers.
Besides it was very hard to carry our synthesizers. But, we always take Prophet 5 and Mono Poly.
What is vocoder that Mr. Kishino is using?
Matsumae: Various vocoders were used time to time. He has used Korg DVP-1 and Boss SE-70. In recording studio he used EMS Vocoder 2000 and Seekers Voice Spectra. In live houses he is using Voice Spectra, too.
Space Ponch's live is very fascinating. Who is selecting live visuals?
Matsumae: Tokiwa collected visuals and edits them. It's very interesting though it is not made for our tracks.
What do you think about your live in the event "DRIVE TO 2000"? Any new learning?
Matsumae: We tried Pioneer CDJ at that live while we used sequencers only before.
About his solo works
Let me ask about your own works? What did you aim at when you were in your old unit, Expo?
Matsumae: Expo's music could have been a kind of mondo music. In short, I has a great interest in unique, strange and mistaken music. In 1987 analog synthesizers were out of date, computer innovation was at the beginning. But, it wasn't convenient at all, I thought. Then I recorded mistakes of machine and repeated errors. And I used cheap analog synthesizers. The reason is that analog synthesizers make better sound than digital synthesizers. It's true. Actually Yamaha DX7 wasn't so bad, but I was interested in Prophet 600 and Matrix 1000.
You create lots of game music. What's interesting about game music?
Matsumae: When home computer game was born, I was interested in cheap sound of NES (Nintendo Entertainment System). NES had only three voices like Game Boy or Wander Swan. I got tired of digital sound in late 80s, it was very appealing to me. I was interested in unique sound editing of NES with NEC 9801 computer, too. I expected that computer game become the biggest entertainment 10 years later thought it was still in the territory of toys at that time. Now, it has fantastic movie visual capability, and it became a bigger market than the movie market. Visual of new computer game is very high in quality. As a sound producer, it became easy, but less interesting as it lost the uniqueness.
You are from Sound Create Club of Chiba University. Recently there are many bands from the club such as Skyfisher, Deadcopy and Chiba Leader.
Matsumae: I'm glad about their success. When I was eighteen years old, Sound Create Club of Chiba University was established. We have played noise music in the campus. We have had a rave party in university festivals, and we did many silly things like that. I had many friends at that club. Among the graduates, some joined Kawai Musical Instruments and Sega Enterprises, and the above bands are also very active currently. I got to know members of Space Ponch when I lived in Kamedo. There are an artistic atmosphere on Soubu line though I was from Osaka.
Do you have anything particular you recently like among the synthesizers, instruments and music software?
Matsumae: Creamw@re Pulsar, a sound board for Windows is the most interesting for the last several years. It is a virtual synthesizer powered by DSP. I can download many software and plugin in Internet without stress. Hardware instruments are easy to be tiring, but I can always freshen it up as I can get new things just with it.
Talking about Internet, do you create a web site?
Matsumae: Yes, I do. I have running my web site for the last 4 years. I have an enormous amount of texts such as travel reports rather than sounds.
http://www.pluto.dti.ne.jp/~matsumae/
How about MP3?
Matsumae: Of course yes. It's still heavy for many users to download MP3. It is important for web sites to be simple and fast rather than sophisticated and slow. From that standpoint, I would like to start when the environment became more friendly for users. Until then, I just do experiments. On the other day, I tested MP3 encoder and MP3 player with FUKUMA Hajime and MOMO. It was interesting to find the performance difference.
Please tell me about your recent works.
Matsumae: This year (1999), most of my works are related to games. I wrote songs as "Collage Techno" for game called Beatmania append Gottamix. I made tracks for Sony Play Station, too.
I also played with members of Guniw Tools and Mr. Kamiryo in live event "Renovation Wave" which NARITA Shinobu and Kamiryo Atsushi organized. I played manual techno with Toshi NAGAI who is support drummer of Glay.
At last, do you want to say something?
Matsumae: Don't forget Space Ponch.
Thank you very much.
Matsumae: It's my pleasure. Thanks a lot.
---
webmaster: UEHARA Ken
special thanks to Hiroaki Shikata As Buggle